ota2GO, the new Android app from LocoBright, works with your Tablo over-the-air (OTA) digital video recorder (DVR) to let you download recordings from your Tablo to your phone or tablet for offline viewing or archiving!
ota2GO has two ways to download videos: Time Saver and Space Saver.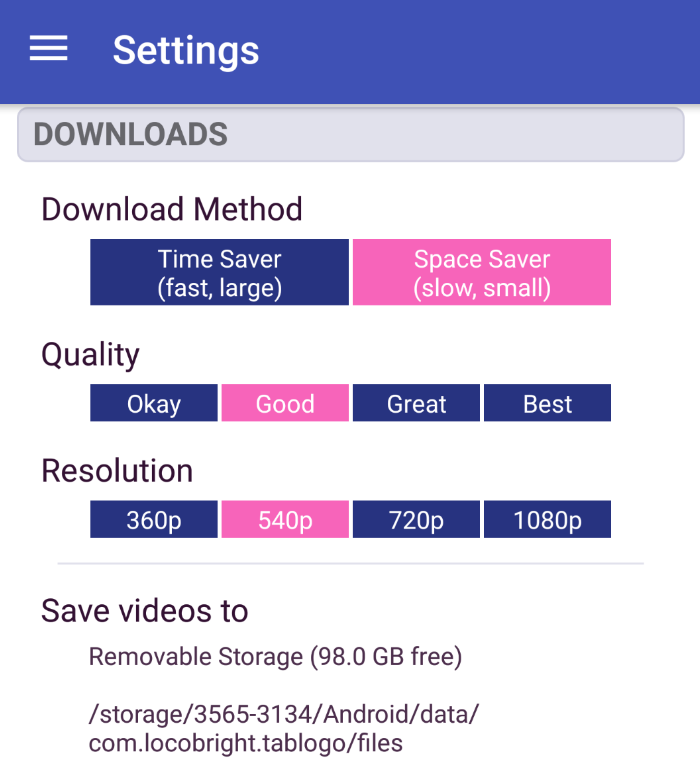 Time Saver copies recordings from your Tablo and stores the full-sized files on your device. Time Saver is intended for devices with plenty of available storage, and has the advantage of downloading recordings quickly – a full 2 hour movie downloads in 15-20 minutes, but can be more than 5 GB in size. Time Saver downloads also support closed captions.
Space Saver copies recordings from your Tablo, but encodes them using lower quality and resolution settings in order to produce a much smaller file. Space Saver is intended for devices with limited amounts of available storage. The encoding process is lengthy – a 2 hour movie takes approximately 2 hours to encode – but the resulting file is significantly smaller. Using Space Saver you can start your download(s) at night and by morning they will be completed, in time for you to catch the latest episodes during your commute 🙂
The downloaded videos are also available to copy from your device to a computer through a simple USB connection, but please ensure that you are using this app and the downloaded videos in full compliance with the copyright laws that may be applicable in your region. ota2GO is designed to provide personal, offline viewing and archiving and isn't intended to support distribution of copyrighted material.
Don't have a Tablo yet? They are amazing little devices. Check them out at Tablo TV!
---

Note: This is an independent app by LocoBright and is not associated with the good folks at Tablo or Nuvyyo. It is intended to work as a complement to your Tablo device and the great software that Nuvyyo already provides.

---